Sales training Big Data reveals critical skills that are damaging your sales.
Find out which sales skills are hindering your team's success.
Big surprises (you won't believe) in sales training Big Data.
Even Top-Performers have skill gaps that are easily fixed with sales training.
64% of salespeople don't close…and more coffee isn't the answer!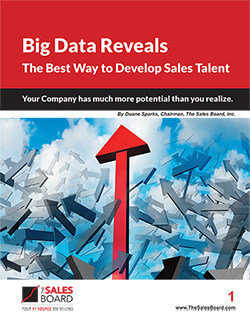 CAN SALES TRAINING BIG DATA ANSWER BIG QUESTIONS?
If you're looking for sales training, New Big Data reveals the right approach to designing sales training that produces maximum business results.  Are you asking any of these Big Questions?
What sales skills are proven to create the greatest improvement in sales performance?
How enormous is the sales skill deficiency that exists within my sales team?
How can I tell which individuals on my team 

lack critical sales skills

?
Why is the ultimate solution to embed these selling skills in every customer-contact employee (not just salespeople)?
INDUSTRY SALES TRAINING REPORTS
LEARN HOW SALES TRAINING IS MAKING A DIFFERENCE IN YOUR INDUSTRY.