Action Selling sales training programs produce real, long-term gains in sales performance; gains that can be seen in salespeople's behavior and measured in actual dollars. Action Selling is successful when implemented into startups and Fortune 50 companies in all industries. There are two key reasons why it works so well:
Action Selling teaches the five critical selling skills that are proven to produce more performance gain than all others.
Action Selling incorporates training, reinforcement and transfer innovations that ensure these skills will be learned and consistently used on the job.
Increase your sales performance growth by 6X when you Certify on the skills of Action Selling in an open workshop. Action Selling is tailored for your selling situations using our unique "Open Architecture" materials as our Professional Facilitators (or yours) take you through the course. Open Workshops are held in Minneapolis, MN on at least a monthly basis.
Sales Training Workshops include: Certified Instructors, sales training videos, open-architecture workbooks, customized scenarios, group exercises and role play practice. You'll use your company, industry, products and selling environment in every step of the training..
The Results of Action Selling Workshops
Each participant will walk away with a clear understanding of:
Establish an Understanding of the End-to-End Process and Make More Money.
WITH ACTION SELLING YOU GET A SALES TRAINING PROGRAM THAT DELIVERS
The Most Effective Training for both Sales Veterans and New Hires​
Productivity that Sets New Sales Records​
Long-Term Reinforcement for Sustained Learning
Sales Coaching Tools to Develop Sales Managers
Maximize Your Sales Force's Potential
Effective Sales Management, CRM & Forecasting Tools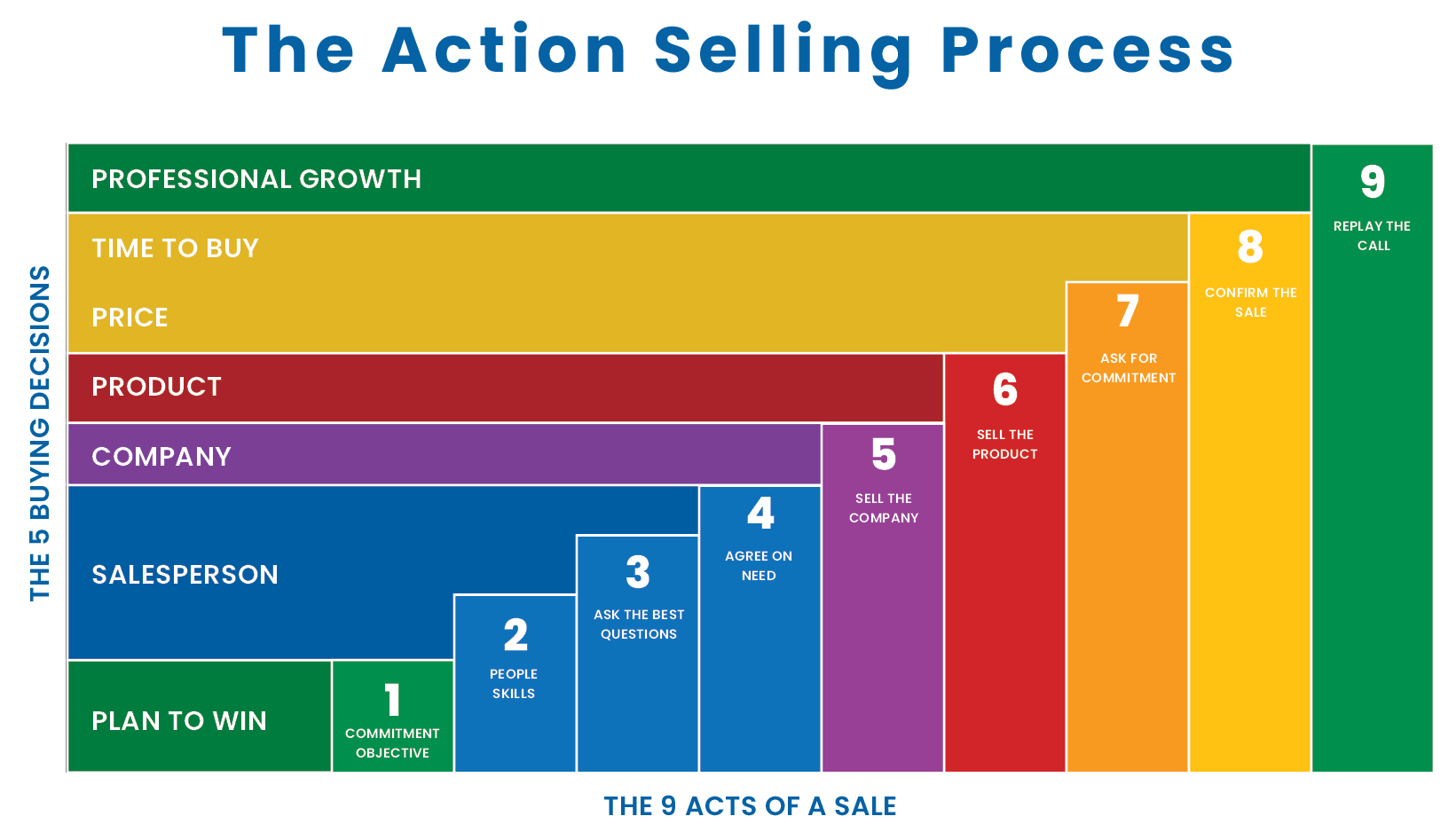 Your Sales Team will…
Increase sales
Reduce sell-cycle time
Increase margins
Create loyal customers
Continually improve
And Sales Management will have tools to…
Manage their sales force
Track every milestone of your sales process
Identify areas for individual improvement
Accurately forecast sales revenue
* Our Benchmark Assessment measures current selling strengths, identifies areas that need improving and provides detailed reports and recommendations on how to improve in each key skill.
Our Training Takes You Further
Increase your sales performance growth by 6X when you certify on the skills of Action Selling in an open workshop
ENERGIZE & EXPAND YOUR ACTION SELLING SKILLS
Want to refresh, energize and expand your Action Selling skills? Here's Action Selling E². This is the training program for Certified Action Selling salespeople and managers who want to revisit Action Selling and take their selling game to the next level.
What You'll Learn in the Action Selling E² Workshop
Experience Hands-On,
Interactive Workshop
Prepare For Specific
High-Priority Deals
Review the Action
Selling Process
Introduction of Buyer Types and
How to Sell to Them
Deep Dive into Ask the Best
Questions Funnel
Learn To Modify Your Questions
to Each Buyer Type
Learn to differentiate you, your
company and your offerings
Current High-Priority
Deal Role Play
Coaching from Action Selling
Experts