Action Selling sales training programs produce real, long-term gains in sales performance; gains that can be seen in salespeople's behavior and measured in actual dollars. Action Selling is successful when implemented into startups and Fortune 50 companies in all industries. There are two key reasons why it works so well:
Action Selling teaches the five critical selling skills that are proven to produce more performance gain than all others.
Action Selling incorporates training, reinforcement and transfer innovations that ensure these skills will be learned and consistently used on the job.
Increase your sales performance growth by 6X when you certify on the skills of Action Selling either a private or open workshop. Action Selling is tailored for your selling situations using our unique "Open Architecture" materials as our Professional Facilitators (or yours) take you through the course.

Sales Training Workshops include: Certified Instructors, sales training videos, open-architecture workbooks, customized scenarios, group exercises and role play practice. You'll use your company, industry, products and selling environment in every step of the training.
WITH ACTION SELLING YOU GET A SALES TRAINING PROGRAM THAT DELIVERS:
The Most Effective Training for both Sales Veterans and New Hires​
Productivity that Sets New Sales Records​
Long-Term Reinforcement for Sustained Learning
Sales Coaching Tools to Develop Sales Managers
Maximize Your Sales Force's Potential
Effective Sales Management, CRM & Forecasting Tools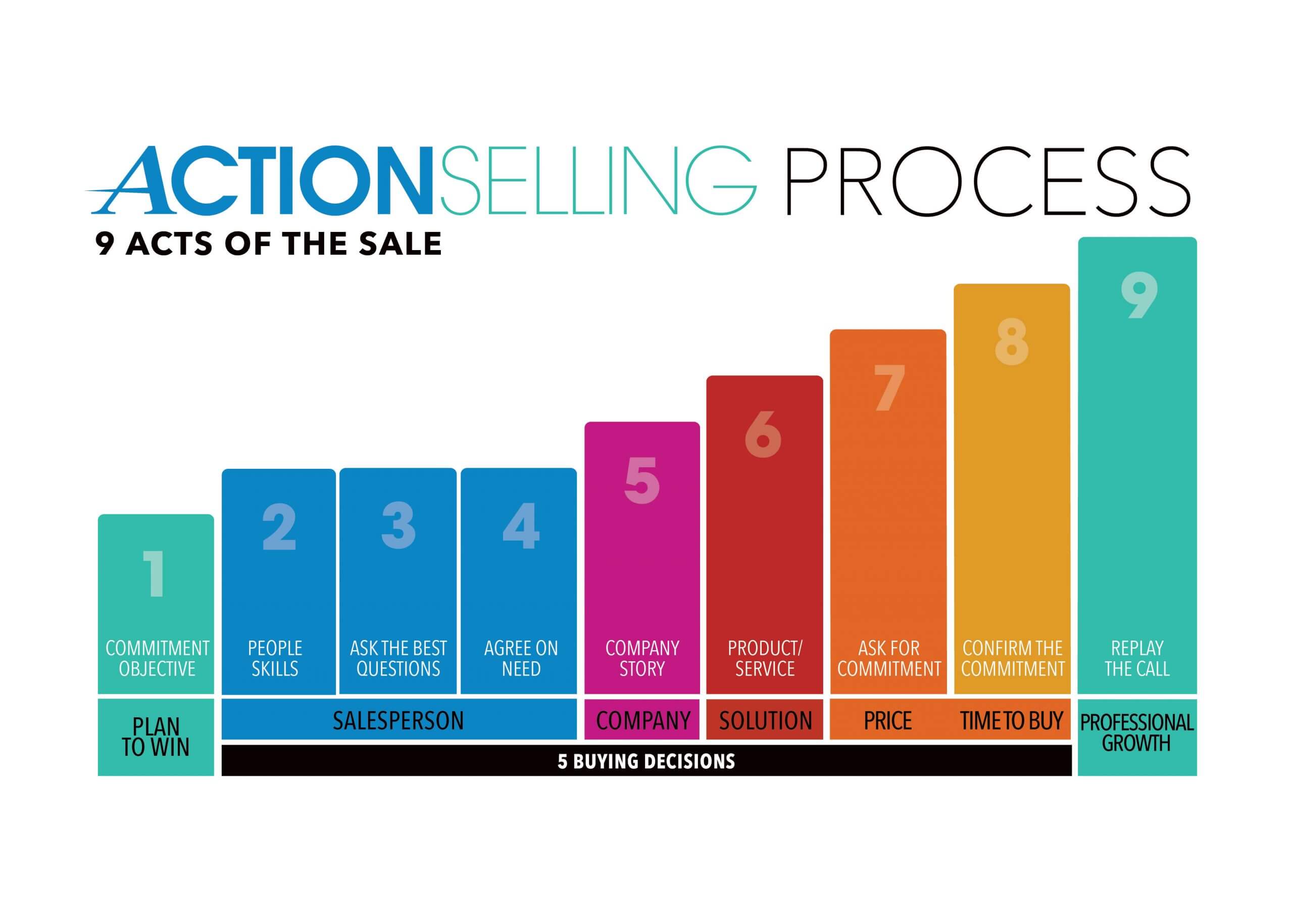 Your Sales Team will…
Increase sales
Reduce sell-cycle time
Increase margins
Create loyal customers
Continually improve
And Sales Management will have tools to…
Manage their sales force
Track every milestone of your sales process
Identify areas for individual improvement
Accurately forecast sales revenue
* Our Benchmark Assessment measures current selling strengths, identifies areas that need improving and provides detailed reports and recommendations on how to improve in each key skill.
Our Training Takes You Further
Increase your sales performance growth by 6X when you certify on the skills of Action Selling in a workshop
ENERGIZE & EXPAND YOUR ACTION SELLING SKILLS
Want to refresh, energize and expand your Action Selling skills? Here's Action Selling E². This is the training program for Certified Action Selling salespeople and managers who want to revisit Action Selling and take their selling game to the next level.
What Happens in the Action Selling E² Workshop
Experience Hands-On,
Interactive Workshop
Prepare For Specific
High-Priority Deals
Review the Action
Selling Process
Introduction of Buyer Types and
How to Sell to Them
Deep Dive into Ask the Best
Questions Funnel
Learn To Modify Your Questions
to Each Buyer Type
Learn to differentiate you, your
company and your offerings
Current High-Priority
Deal Role Play
Coaching from Action Selling
Experts
The Importance of Sales Training in Business
Sales success relies on nurturing the qualities and skills that are necessary to closing deals. Whether you believe your sales team yields the skills by nature, there is always room for a sales professional to grow their skillset. Skills training development will help any sales team consistently perform to a higher caliber, regardless of their current knowledge and expertise.
Because the sales process is so complex, there are many areas that a sales professional may need to develop. There are many major benefits of a professional sales training program. Here are the top five benefits of sales training that can help your business hit its sales goals.
Carry Out More Deals
The number one goal of any sales team is to close more deals. Fortunately, sales training will directly help salespeople do that. Many professionals waste their time and energy on tactics that, at the end of the day, do not work for them or the client. Everyone has their strengths and weaknesses, so what may work for one sales professional may not work for the other.
Sales training helps individuals understand the techniques and processes that are right for them. Gaining valuable insight on when to utilize certain techniques can allow your team to change gears and streamline the process. This, in turn, can help them adjust to circumstances and meet prospect's needs more fluently. And the result is closing more deals.
Best Practice Integration
The internet has given everyone access to valuable information at the click of a button. All anyone needs to do is do a quick Google search of "the best sales techniques and practices", and they should learn everything there is to know, right?
Unfortunately, while there are many tools and resources available for free online, the actual "best practices" cannot be learned through search engines. Rather, it is a much more complex proposition for your sales team to learn.
To follow best sales practices, sales professionals need to understand one thing: why are you expected to follow through. Professional sales training programs help educate salespeople on the "WHY", not the "WHAT". Learning what tactics may work is valuable information, but understanding how and why is even more important. This is why professional sales training programs are better at educating on how to integrate these practices into performance.
In-Depth Information
The best sales training programs are designed to educate sales professionals on essential sales information. There is more to it than following a script–adapting and responding to the client's inquiries requires more than following a standard, cookie-cutter approach. Sales training will instill confidence in those who enroll in a program. The information that they gain is incredibly valuable. Salespeople will be able to approach a prospect and conduct a conversation with the information they have gained from a sales training program.
One of the biggest takeaways from a sales training program is that many sales professionals realize they have been lacking in their communication skills. Communication is key for any business, sales or not. Effective communication is what keeps businesses afloat. How a salesperson delivers their message determines how the conversation will end. If it's a low-effort cold call, you will get radio silence.
Increase Employee Retention
High-pressure environments such as sales, often have high turnover rates. While many claim to be natural-born salespeople and have high aptitudes, they still benefit from sales training. The sales process has a very steep learning curve. Because of this, it can be difficult for a new member of the team to feel comfortable. This can result in a lack of confidence and ability to grow within the company. Sales training will instill that confidence in fresh hires to help them succeed. A staff that feels supported and confident is much more likely to retain their position. The bottom line is, your business will see a higher retention rate once your sales professionals have gone through a training program.
Develop More Realistic Goals
Every business sets a goal. While it's important to consistently set goals, oftentimes they are too lofty and unrealistic. A professional sales training program can help your team accurately set short and long-term goals that they can realistically achieve. When goals are set too high, it can damage the team. It will discourage your employees from carrying out their job, and their performance will be lacking. Setting unrealistic goals is the ultimate way to send them on a road of discouragement.
When you set more achievable goals, your sales team will maintain their confidence when they've met them. Understanding how to accurately predict sales goals is what will help your team and business grow, and a professional sales training program will teach you how to measure and set achievable goals.
The sales team is one of the most valuable assets of every business. Regardless of the type of business, there's a good chance that there is a sales team. They are responsible for creating a significant portion of a company's revenue, so needless to say, they are crucial to your success. By having your sales team undergo a professional sales skill development program, they will learn valuable information and methods of how to close more deals.