How many of the employees on your payroll understand that their real job is to generate loyalty from your customers? I think such an understanding should be deep and clear, not only among your salespeople but in every single employee who comes into contact with your customers.
In fact, I believe it is critical to your business that every one of your customer-contact people should understand what genuine loyalty is and how to increase it in every interaction with a customer.
Does that sound like a tall order? It's exactly what some of the nation's best-run companies are doing right now. Let me explain.
If you have a question about how to turn your entire company into an army of loyalty-generators, click on "Ask The eCoach".
We are committed to your professional success.
Duane Sparks
Author of Action Selling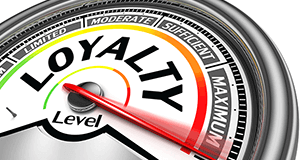 Imagine that customer loyalty can be measured on a dial. The dial is moving in one direction or the other during every single interaction that one of your customers has with any of your employees. Over the course of the interaction, the customer is becoming either more or less loyal to your company.
It makes no difference whether the employee in question is a salesperson or someone else—a technician, customer-service specialist, marketer, engineer, or whatever. As far as I am concerned, everyone in your company who is not in a formal sales role but does come into contact with customers is a Customer Relationship Professional, or CRP. I use that term not because most such employees are actually qualified for the role, but because they ought to be.
In the last two editions of eCoach, I described the "sales-culture gap" that exists in most companies today and the critical importance of closing it. I explained that the only way to close the gap and align your sales culture is to train not just salespeople but also CRPs, so that everyone speaks a common language and sings out of the same hymnal. I said that the ultimate purpose of such training is to create a company in which everybody knows how to generate real customer loyalty.
In effect, you would turn your company into Loyalty Generation Inc. But what is real customer loyalty? And what impact can alignment of your sales and service teams have on your sales culture? Here is the formula:
Align Sales and Service
+ Improve Sales Culture
Customer Loyalty
Many people mistakenly use the term "customer loyalty" interchangeably with customer satisfaction. In fact, they are two entirely different things. Many companies spend a lot of time and money measuring only customer satisfaction. They have good reasons for that practice, as far as it goes:
They want to reduce churn, minimize negative word of mouth, and differentiate their service from competitors.
They know that it's 5 to 7 times cheaper to hang onto current accounts than to acquire new ones.
Correspondingly, a 5% improvement in customer retention creates a 25-35% increase in profit.
All true. The trouble is, customer satisfaction alone doesn't cut it today. Research into B2B customers who defect from suppliers shows that:
75% of customers who leave a company for a competitor say they were Satisfied when they left.
Company executives think that 50% of customer defections are due to issues of Price. In fact, less than 25% leave for that reason.
Company executive think customers leave because their Needs Changed. But, only 10% leave for that reason.
Research Conclusion: In nearly 75% of cases, customers say they left a B2B supplier because of the lack of a solid Business Relationship.
In other words, customer satisfaction may be a good thing to measure, but as far as retention of customers goes, it isn't the right measure. Based on the research, satisfied customers are still perfectly open to shopping the competition. In my recently revised and updated book Masters of Loyalty: How to turn your work force into a loyalty force, I describe in detail what real loyalty is: Truly loyal customers are those who have stopped shopping. Loyal customers are those who are deaf to your competitors' appeals.
Now, here is a key point about that kind of genuine loyalty: Customers don't really feel it for a corporate entity or for a "loyalty program." People become genuinely loyal only to other people. If you want real loyalty from your customers, only your employees can generate it. And, they can only generate it by building relationships. An employee who excels at generating loyalty is one who acts as a consultant, an orchestrator or resources and, above all, a relationship builder.
People with loyalty-generation skills understand that loyalty must be earned. They market not just their company and products but themselves. If you are a customer, they consider their relationship with you valuable, even if you're not the Ultimate Decision-Maker in your company.
Your employees need to understand that the underlying purpose of every client conversation is to create loyalty by strengthening their personal relationship with the client. What's more, they need to know how to do it. A work force full of employees like that would rule any industry. Their company might as well be called Loyalty Generation Inc.
Download a free copy of my new white paper that describes in more detail how to align your sales culture and generate genuine customer loyalty. Want a Great Sales Culture? Fill This Gap.
Dakota Supply Group (DSG) of Fargo, North Dakota, is a wholesaler of parts, materials, and tools to electricians, plumbers, and other tradespeople in the construction, communications, and utility industries.
DSG has trained its salespeople with Action Selling for more than a decade, and credits the system with helping it become one of the largest suppliers in the Midwest. DSG recently extended training to its teams of Customer Relationship Professionals with our new program Action Selling CRP. Here is what corporate sales manager Ryan Tracy has to say about that:
"Our model CRP is a construction-industry expert who has been taught how to be customer-oriented and, hopefully, secure orders for our products. Among other things, that means they know how to service customers and create up-sell, cross-sell, and bid opportunities."
"Before Action Selling CRP training, we had way too many bid opportunities fall through the cracks. Our CRPs had no procedure for following up and gaining commitment on the bids that we produced. We fixed that with the training. Now our industry experts are professional customer-relationship developers who follow an effective process for consistently gaining commitments from customers."
"The CRP training has taught us what a high-quality business relationship is supposed to look like and what it takes to create a customer relationship that is based on true loyalty. The system gives us a procedure to go beyond 'satisfied' to loyal with each customer interaction we have."
"Now our entire customer-contact work force knows explicitly that creating loyalty is always the most important thing we do during customer conversations. And, they know the precise steps to become Masters of Loyalty."
For information about how to make sales training pay huge dividends, contact Action Selling at (800) 232-3485.
Get a FREE COPY of my newly revised and updated book Masters of Loyalty: How to turn your work force into a loyalty force.