TECHNOLOGY INDUSTRY
IMPROVEMENT IN CRITICAL SALES SKILL #1: BUYER/SELLER RELATIONSHIP SKILLS
BUYER/SELLER RELATIONSHIP is the salesperson's knowledge of and ability to use a sales methodology to navigate through each of the customer's incremental buying decisions in the proper sequence. When salespeople do this correctly, they experience an improved ability to gain commitments while building a lasting relationship with the client.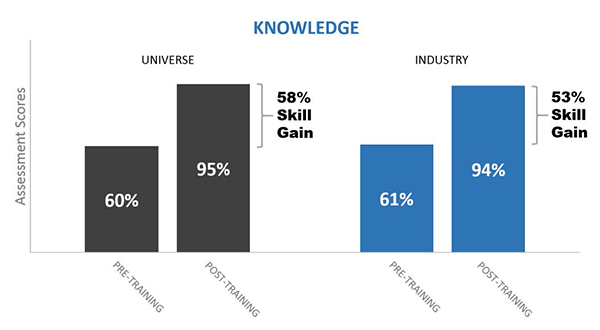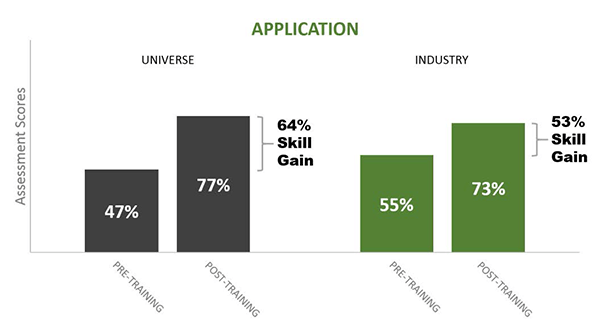 REMARKABLE FINDINGS ABOUT PRESENTATION SKILLS IN THE TECHNOLOGY INDUSTRY
Technology Industry was on par with the Universe in Pre-Sales Training Knowledge in Buyer/Seller relationship skills than the Universe. Tech rose to 94% Knowledge with sales training.
In general, the Technology Industry appears to have had more Sales Skills training prior to this sales training. However, the significant boost in Knowledge and Application for the Technology industry provided a tremendous ROI from the training.
The Technology Industry appeared to have made investments in sales training prior to their investment in this training. This is demonstrated by higher Pre-Sales Training scores in many of the 5 Critical Sales Skills. The key to any training, however, is how much knowledge gain occurs and how much of it transfers into the field.
Even though the Technology Industry underperformed the Universe by 2 points in Knowledge gain and 8 points in the Application of the Knowledge the overall improvement of 76% skill gain is remarkable.