PROFESSIONAL SERVICES INDUSTRY
IMPROVEMENT IN ALL CRITICAL SALES SKILLS COMBINED
Mastery of the sales process requires salespeople to achieve Knowledge and Application scores of 75% or greater in each of the 5 Critical Sales skills. When this is accomplished, salespeople increase their sales rate by 6X. Salespeople who were trained but did not achieve certification levels, were 50% lower in sales growth than those who became certified.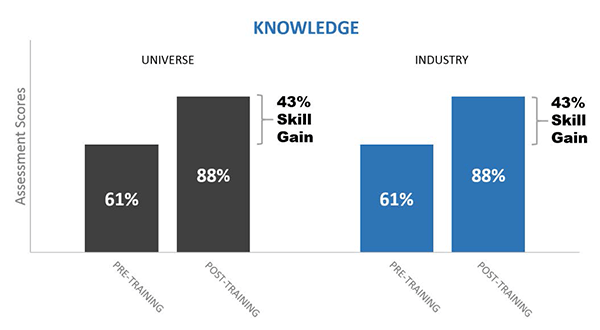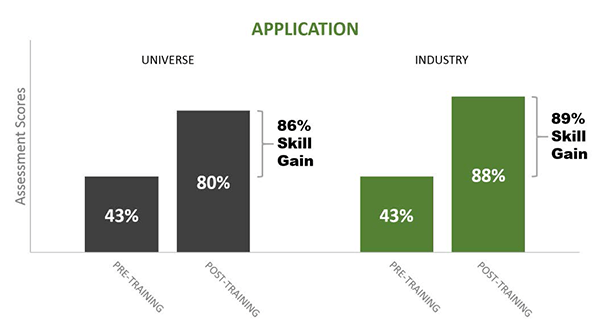 REMARKABLE FINDINGS ABOUT ALL SKILLS COMBINED IN THE PROFESSIONAL SERVICES INDUSTRY
Professional Services companies exceeded the gain in Application compared to the Universe. The cause is due to superior ability to apply the skills in Professional Services.
The improvements that were made provided a significant lift in Knowledge (43%) and a dramatic improvement in Application (89%). This easily justified the investment of time and money to train sales forces in the Professional Services Industry.
The Professional Services Industry involves individuals holding professional licenses such as architects, auditors, engineers, doctors and lawyers. Other professional services included in the study are specialist who provide support to businesses such as tax advice, accounting, IT or management consulting.
The Professional Services Industry started with similar pre-sales training skills as the Universe. Because they were superior learners, their skill gains from sales training were higher than the Universe. Key skills that showed high levels of improvement include: Sales call Planning (117%), Presentation Skills (112%) and Gaining Commitment (130%). With an overall Application gain of 89%, an investment in sales training is clearly in the best interest of any organization in the Professional Services business.