What is Sales Training?
Sales training is the process of growing seller skills. Through a sales training program, salespeople will practice and expand their selling skills to maximize future success in a low-stakes environment. This is often designed and executed as a change management initiative.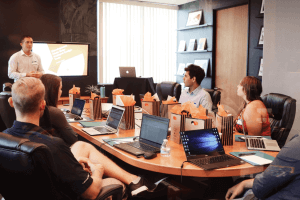 What Is a Sales Training Program?
A sales training program is designed to help improve the skills of your existing and new sales team members. However, not all sales training programs are alike due to the different types of sales. For example, a salesperson with telemarketing training may not perform well in field sales.
An effective sales training program focuses on important factors, such as product knowledge, selling techniques, and the mindset of salespersons. Keep in mind, a sales training program is an investment that not only reenergizes your team"; it can increase your revenue. It can be anything from a motivational seminar to an in-depth workshop.
Major Sales Training Innovations
The competence of a salesperson is the most critical factor that influences the decision of a prospect to purchase your products and services. As a result, many organizations have been investing in sales training programs to increase their customer satisfaction and retention rates.
What Makes a Good Sales Team?
Before reflecting on the significance of training, let's understand the elements of a winning sales team. A good sales team consists of members who: 
Exhibit positive attitudes.

Are willing to support others.

Introduce new ideas and come up with constructive criticism for different sales strategies.
A good sales team is driven to face any challenge. Teamwork gradually builds up to a point where a good sales team will only feel successful when all the other members are meeting their targets. Keep in mind that this does not indicate that a good sales team cannot have a struggling or weak member. Instead, this reflects a certain mindset: they acknowledge their success only when each of them is experiencing success.
Effective training is one of the primary pillars of a stellar sales team & culture. These teams comprise professionals who can raise the spirit in the workplace and help others to reach their full potential. Just think of any popular game, and you can find that great players radiate positive energy—inspiring their teammates to compete harder and win the game at any cost. The dynamics of a good sales team are not any different. No one likes to be the weak link or the chief culprit that puts the team behind its sales targets. This realization hits them hard, fuelling their passion for working harder. Hence, the end result is favorable for all.
A good sales team is one that can successfully build relationships. Building relationships is crucial to closing sales. You can't always count on the Internet to build relationships on your behalf. Only an effective sales team can achieve that.
What Does Not Make a Good Sales Team?
Did the information above put you in a tight spot? Are you having doubts that your sales team requires improvement? Well, if your sales team doesn't have these traits, this is a red flag; you are likely to be working with a bad sales team. Most of the members in such a team perform poorly at work and are unable to achieve company goals, especially those related to the product they sell and the customers assigned to them.
When it comes to cooperating with other members, gossip may be preferred over positive and healthy internal competition, whereas a clear hesitance to support their colleagues cannot be more visible. In the worst cases, their actions can go as far as to damage the sales opportunities of their team. Such a member is not thrilled by the success of other sales team members, and thus self-protection is more important to them than the well-being of their team and the company's sales campaigns.
Luckily, there is a way to transform your bad sales team into a good one. Implement a policy that enforces your sales team to go through a sales training program, so they can make better contributions to the company's revenue.
Why a Sales Training Program Is Important for Your Company?
Here is why you should invest in a high-quality sales training program.
1. Increase Sales
Around 60 percent of salespeople reveal that selling is harder than it was five years ago. This is where sales training can step in, especially for aiding stagnant sales teams that are going nowhere. After receiving adequate training, a salesperson is well positioned to influence a lead and convert them into a loyal customer, thanks to the newly acquired approaching techniques. They listen to client requirements, engage in a discussion, and come up with a solution that seals the deal. These fresh skills add a tremendous boost to their performance.
2. Recruit Top Talent
Modern job seekers and employees vary from their older counterparts. The crème la crème of the business world wants to work with organizations that can help them to shape their skills regularly. If you belong to a high-demand industry, such as IT, then it is extremely important to attract the best talent. Around 54 percent of employers have to spend a vast chunk of their money to tackle the talent shortages.
By offering foundational and consistent training to your sales team, you have a golden opportunity to tempt the top-tier salespersons to apply to your company. Your reputation as a progressive employer will attract the top talent, especially those who are looking for workplaces with opportunities for aggressive growth.
3. Learn the Art of Prospecting
Many organizations have salespeople that are easily deflated after hearing "No" from a prospect. They are not persistent enough with their sales prospecting efforts. Some mistake prospecting for stalking—they are inefficient when it comes to engaging a prospect convincingly. As a consequence, they experience a loss of sales opportunities, limiting their company's revenues. Always remember that there is a major difference between stalking a prospect and persistence. Also, keep the following in mind.
Around 50 percent of salespeople don't follow up with their prospects after they receive a negative response.

Only 7 percent of salespeople are willing to speak with the prospect at the 5th contact to make them buy your product or use your services.

It has been established that only a single salesperson is left during the 8th contact with the prospect.
Sales training ensures that your salesperson can be that 8th contact that turns the prospect into a customer.
4. Enhance Communication
A compelling sales proposal is filled with real value that can grab the attention of your leads. After meeting a prospect or client, salespeople need to work on a proposal. This is a critical component of the whole process. Unfortunately, it is seen more like a "chore" that does not get its deserved attention from the sales team.
Rather than quoting prices to a prospect or using a "find and replace" strategy (changing only the client's name), you can earn a great deal of output from your sales team via sales training. It can assist your sales professionals in writing and designing killer proposals—communicating with clients on a whole new level.
Training will help your sales team understand where their focus should be. According to the Wharton School of the University of Pennsylvania, selling is truly a series of incremental dedications that guide our potential clients on a cycle of consent, inherently moving the sale forward, and leaning them into the final decision to buy, because that is how our brains make important decisions.
5. Get the Hang of Administrative Skills
Usually, salespeople pay attention to core sales aspects, such as making sales calls. During all this, they never focus on administrative tasks. A proper sales training program highlights the importance of functions, such as maintaining accurate records, tracking daily activities, and running analytics for closing ratios.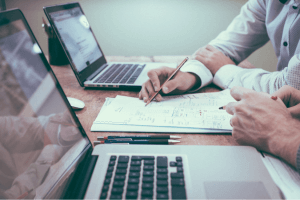 As a result, your sales team can manage their time and identify areas that require improvement. You can introduce the use of the latest software tools that can simplify administrative tasks and gain greater efficiency.
6. Learn from Past Experiences
Not every sales technique can create positive outcomes. Sales training doesn't only provide insights into successful strategies. It also reveals what mistakes the sales team is making —employing sales strategies that are not feasible with a specific prospect.
It is tricky to navigate the sales landscape. You are not always expected to win. Even the best salespeople are bound to fail at some point. With sales training, you unlock the ability to learn from your past experiences and adjust your sales approaches for different clients to improve your results. As an employer, make sure that the sales training covers a review process that evaluates the sales strategies of your sales team.
7. Adds Context
How do you plan to increase your sales if your salespeople don't know how to approach leads or sell products/services without investing in sales training? Even if your team consists of skilled and experienced salespeople, without getting information on your brand name, product, and company values, it is unlikely that their pitch is going to influence your prospects.
Effective sales training programs ensure that your salespeople know about the context (i.e. how to make a sale in the context of your organization).
Assessing the Impact of Training Programs
When you discuss a sales training program with any salesperson, they may respond with a common question: what ROI can I expect by participating in this program?
There are several challenges in determining the real impact of sales training for a company where you have to define certain success metrics. Proper measurement can also be affected by a few issues, including the current economic and market conditions.
CSO Insights released a report that surveyed 2,000 companies to measure their sales performance. The results were an eye-opener for many in the industry as statistics illustrated how sales training programs generated excellent returns for companies.
CSO Insights conducted the study by segmenting data according to three metrics:
How organizations performed when their sales training program exceeded expectations.

How organizations performed when their sales training program met expectations.

How organizations performed when their sales training program needed improvement.
Thereafter, the following insights were noted:
Reps Can Achieve Quota
Organizations relying on sales training programs that "exceeded expectations" found a 3 percent increase in the number of sales representatives meeting their quotas, when compared to businesses that reported their sales training program to only "meet expectations". Similarly, they gained an 8 percent increase in sales representatives meeting their quotas when compared to businesses that term their skill training programs as "need improvement." This establishes that a good sales training program can turn the tables for your company.
Proper sales training will help you improve the efficiency of your top sales reps. This is why, according to the Harvard Business Review, the world's leading business leaders have placed more focus on improving the performance reps than they have in the last five decades.
Increase in Win Rates
Organizations relying on sales training programs that exceeded expectations also found out that their win rate was higher—around 52.6 percent—than their competitors whose programs only met expectations (48 percent) or were in need of improvement (40.5 percent).
Align Solutions with Customer Requirements
Getting customer requirements right and then adapting your solutions is one of the biggest tools in the armory of salespeople. CSO Insights disclosed that organizations using training programs that exceeded expectations (84 percent) outmatched their competitors whose programs only met expectations (84 percent vs. 79 percent) and also outclassed those companies whose programs required improvement (79 percent vs. 44 percent).
Lower Sales Turnover
One more positive aspect of investing in sales training is the minimized turnover rates when it comes to your workforce in the sales department. Since it takes too much time for the new sales hires to become productive, a higher turnover can put a dent in your sales productivity. CSO Insights noted that organizations with training programs that "exceeded expectations" were the beneficiary of the lowest turnover rates (11 percent). Meanwhile, businesses that met expectations had an almost 14 percent turnover rate. Lastly, businesses with training programs that require improvement had an almost 20 percent turnover rate. 
It does not matter whether you own a large corporation or manage a small business, belong to finance or healthcare, sales training is crucial for all types of businesses. It can act as the key that can make you more successful and set you on the path of continued growth.
Improve Your Sales Team Today
If your sales team does not receive training, then they will have a hard time trying to convert leads and prospects into customers. This is why you should consider Action Selling's sales training program. It is not an expense. It is an investment that can deliver an impressive ROI to your organization in a short time period. Contact our team to learn more about how we can help.