SALES TRAINING WHITE PAPER
THE NEW ROLE THAT DRIVES SALES LEADER VALUE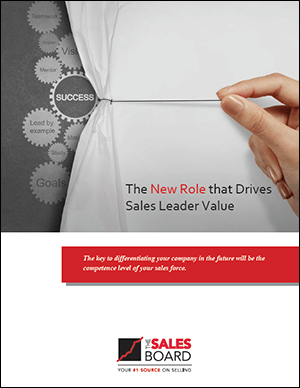 SALES LEADERSHIP – TOUGHEST JOB IN THE COMPANY?
Like any executives, we have more work to do than time to do it. But, in sales, the stakes are incredibly high. Just like people need oxygen to survive, companies need top-line revenue; without the top line, there can't be a bottom line. What's more, in sales there is nowhere to hide: What's more visible than a leader who isn't hitting sales numbers?
THIS WHITE PAPER COVERS:
The 3 critical duties of a sales leader
The Theory of Consciousness and Competence: by Noel Burch
The best way to learn is to teach
Download this sales white paper to learn the key to differentiating your company in the future.
Snippit from the white paper:
"When salespeople are consciously competent about how to make sales, they know exactly why they are successful, they can continuously get better at it, and they can show others how to do it. As a teacher, your ideas will never be more effective than your ability to make others comprehend them."