Action Selling Professional Certification
$895.00
Description
Learn about the End-to-End Sales Process at Your Own Pace
Receiving an Associate Certification from Action Selling is a great way to set the tone for your sales future, but if you want a true understanding of the end-to-end sales process, you need to sign up for the Professional Certification program. Our engaging content will inform and inspire you to give you all the tools to become a sales leader. There has never been a more efficient program that helps you improve your sales skills at your own pace until now.
If you're looking for a complete sales training solution that results in career-changing professional development, look no further.
Who Takes This Course?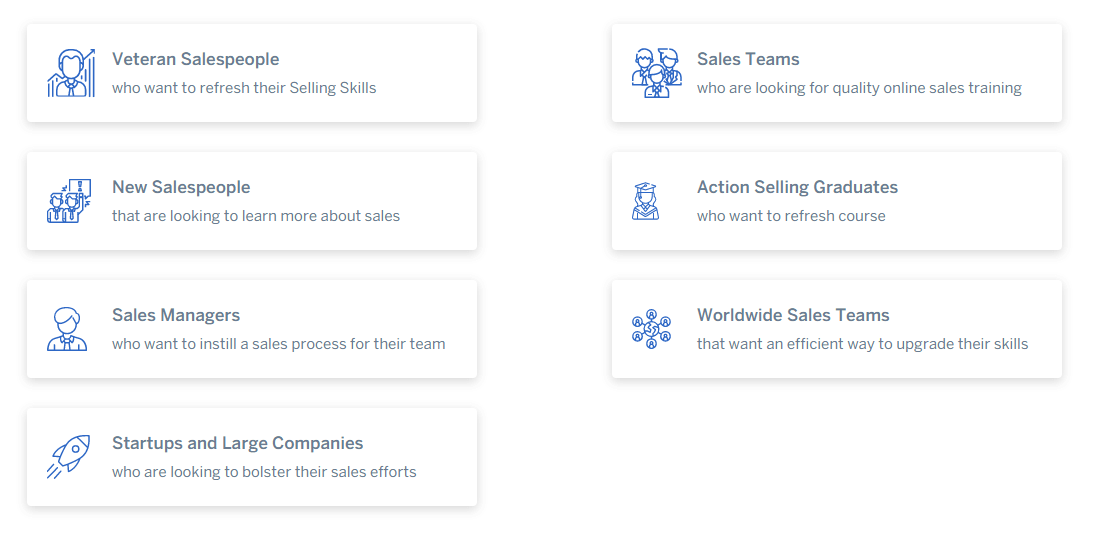 VETERAN Salespeople who want to refresh their Selling Skills
Salespeople that are NEW to the Profession of Sales
Sales MANAGERS that need a sales process for Coaching their team
Sales TEAMS that are looking for high quality online sales training
Previously TRAINED Action Selling students that want a refresher course
WORLDWIDE Sales Teams that want an efficient way to upgrade their skills
What's Included?

About This Course
This course goes several steps beyond the Associate program by teaching you about the end-to-end sales process through a series of 9 Acts. The reinforcement you receive throughout this program will supply you with all the skills you need to become a sales leader.
Discover and learn to execute a proven end-to-end sales process through our video series
Learn about examples that demonstrate many of the classic mistakes that all salespeople make.
Learn see examples of the correct use of the selling skills.
Take Interactive quizzes that help you internalize the knowledge as they test your understanding of Action Selling.
Gain all the skills you need to become certified through the Action Selling eBook.
Gain helpful feedback on where you are great and where you need improvement through the Certification Assessment.
Complete this Fast and effective learning course in 9-12 hours (depending on your learning style)