Sales Training White Paper
WANT A GREAT SALES CULTURE? FILL THIS GAP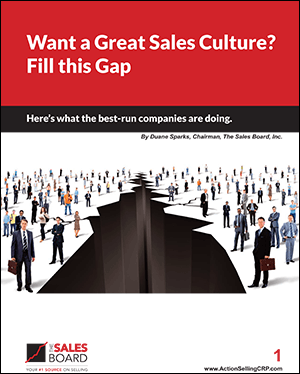 TOP 20 SALES TRAINER TELLS YOU HOW
Every business leader wants a productive, efficient, and effective sales organization. But, Aberdeen Group says what we want and what we get are two different things.
2/3 of sales reps fail to hit quota
Sales productivity is the #1 Challenge for 65% of companies
Harvard Business Review identifies sales culture is the #1 factor in determining a highly productive company. And,aligning sales and service with common vision, strategy and shared behavior is the answer to sales culture effectiveness.
Top 20 Sales Training Company* The Sales Board lays out the best strategy for improving sales culture in a brief, hard-hitting white paper: Want a Great Sales Culture? Fill This Gap.
Includes:
What the best-run companies are doing.
How to fill the sales culture gap quickly and inexpensively.
9 case studies on companies who've done it well.
It's not only profitable…It's critical to survival!

*The Sales Board has been awarded 2019 Top 20 Sales Training by Training Industry for innovation, depth of training solutions and contributions to the sales training industry.