SALES TRAINING WHITE PAPER
How to Break Out of A Sales Slump and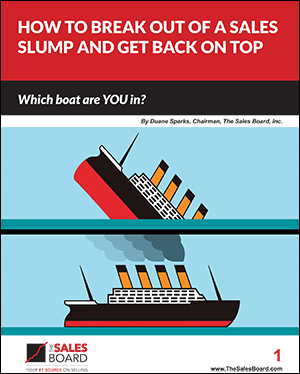 WHICH BOAT ARE YOU IN?
In today's economy, it should be smooth sailing. But, 50% of salespeople and 30% of companies are in the wrong boat. Learn how to break out and get back on top.
The proven Success Formula for slump breaking
How to identify the bottlenecks in your sales process
Foolproof plan to get out of a slump
How to create a sustainable differentiator
Learn the right goal to set for yourself and your sales team. Do this and you'll break out of your slump…and stay out of it forever.
"The success formula for sales is simply: Quantity + Quality = Success."