HOW FIVE BASIC SKILLS WILL DETERMINE HOW MUCH YOU SELL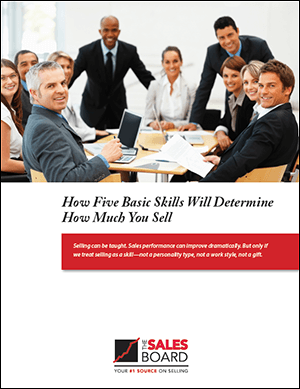 64% OF SALES REPS NEVER ASK FOR COMMITMENT!
In a market economy, sales are self-evidently good, like oxygen. A company that can't sell can't survive. Selling can be taught. Sales performance can improve dramatically. But only if we treat selling as a skill – not a personality type, not a work style, not a gift.
White Paper Highlights:
Selling is a skill, not a style…and it is measurable.
About The 5 Critical Selling Skills

Buyer/Seller Relationship
Sales Call Planning
Questioning Skills
Presentation Skills
Gaining Commitment
Download this paper to learn how your sales performance can improve dramatically. Simply improving the average score from 57 to 75 results in a 32% increase in selling skills and drives new revenue!