The 5 Critical Selling Skills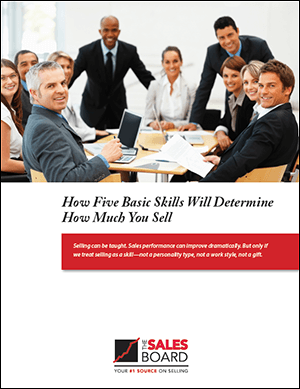 How to Take the Complexity Out of Your Sales Training
You can't teach personality, but you can teach skills. Not only that, but you can continually measure and improve upon skills. There are hundreds of identifiable skills that can build a selling process, but wouldn't it be nice if your team only had to master five of them?


We've spent 30 years helping teams master a process that's built around 5 critical selling skills (listed below) that are foundational in nature, and help deliver measurable results that are repeatable.


White Paper Highlights:
Selling is a skill, not a style…and it is measurable.
About The 5 Critical Selling Skills

Buyer/Seller Relationship
Sales Call Planning
Questioning Skills
Presentation Skills
Gaining Commitment
Our downloadable white paper showcases 30 years of valuable data on how building your sales process around these 5 critical skills can drastically improve sales performance while reducing the complexity of your sales process.