Sales Training "Train the Trainer" Courses Designed for Corporate Sales Trainers
Action Selling™ designed the Train the Trainer program and sales training product line for the corporate sales trainer.
Trainers want sales training courses that make a huge impact on sales performance. Trainers also want a complete sales training system that helps them get rave reviews from salespeople and top management. Action Selling's Train the Trainer program helps every trainer perform like a rock star facilitator.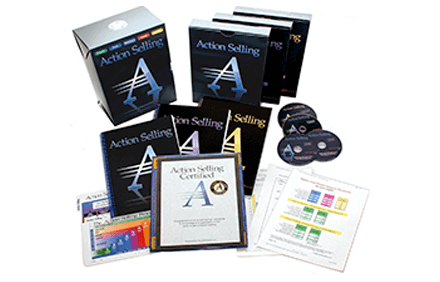 Here's what's included:
A complete "train the trainer" system
HD video-based instruction: 9 Modules – 120 Minutes of engaging instruction
Adult-learning process based on validated skills assessments, reinforcement and certification
Online sales training tools for measurement of learning
Application and performance change (Kirkpatrick Level 4)
Spaced learning online reinforcement training modules
Complete learning transfer system
Customized to your selling environment and your training requirements
Action Selling offers a complete sales training system
Action Selling Sales Training Courses and
Train the Trainer
programs
include all of the capabilities that professional trainers want
from a training company.
Action Selling is a selling system
based on the logic of the buyer, critical selling skills and
measurable learning with a proven ROI. Action Selling has
been successfully implemented by in-house
sales trainers in 3,500
companies and with 400,000 sales people.