The "New Wave" of Private Equity Capability
The best way to raise funds, make deals and grow organically. Tonka Bay Equity Partners showed significant organic growth as a result of the Action Selling training initiative.
---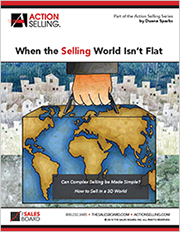 When the Selling World Isn't Flat
85 percent of the selling situations we face are "complex." That is, we have multiple buyer types to deal with and a selling process that involves several steps or milestones.
---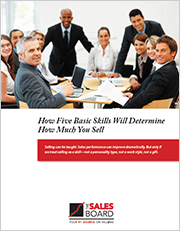 Five Basic Skills
Selling can be taught. Sales performance can improve dramatically. But only if we treat selling as a skill—not a personality type, not a work style, not a gift.
---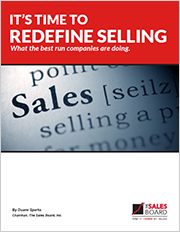 It's Time to Redefine Selling
A lot of people in the sales-training industry will tell you that the internet has revolutionized the salesperson's role in ways that require you to do all sorts of outlandish things. so, what needs to change today about the way your company trains its sales teams?
---
Our information-packed, sales training articles combine Action Selling principles with the 5 Critical Selling Skills and adult learning methods & techniques. Each article is straight talk on what you need to do when it comes to training your sales force.

ABOUT DUANE SPARKS
Duane Sparks is founder and chairman of The Sales Board, the authoritative source of practical and leading-edge information about the art and science of selling. He has created Action Selling sales training products and learning systems that transform sales organizations. Duane is author of these best-selling books: Action Selling, Selling Your Price, Questions (the Answer to Sales), Masters of Loyalty (How to turn your sales force into a loyalty force), and Sales Strategy from the Inside Out (How complex selling really works).

Discover how the best sales training process can make spectacular improvements in sales skills. Action Selling: How to Sell Like a Professional (Even If You Think You are One).