Action Selling Associate Certification
$195.00
Description
Get Action Selling Certified on the Associate Level
Develop your sales skills by becoming Action Selling Certified at the Associate Level through Actions Selling's Online Sales Training. This self-paced interactive eLearning course will guide you through the principles of Action Selling. You'll dramatically improve your professional success as you certify on Action Selling Skills.
Who Takes This Course?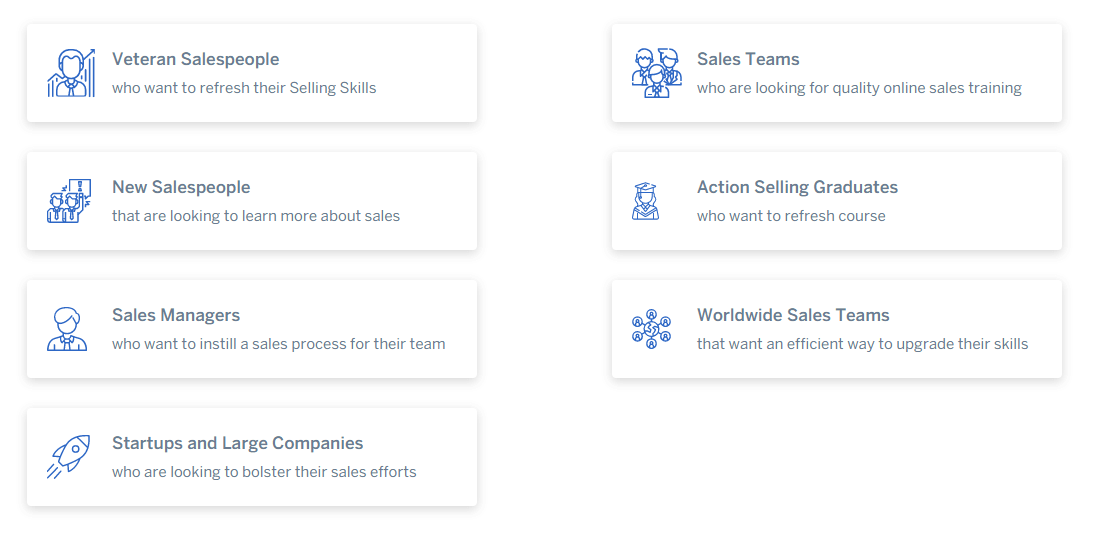 Veteran Salespeople who want to refresh their Selling Skills
Salespeople that are new to the Profession of Sales
Sales Managers that need a sales process for Coaching their team
Sales Teams that are looking for high quality online sales training
Previously trained Action Selling students that want a refresher course
Worldwide Sales Teams that want an efficient way to upgrade their skills
What's Included?

About This Course
This course will certify you at the Associate level in Action Selling. It is based on the same Action Selling course that salespeople pay thousands of dollars to attend. Now, you can gain an Associate level certification in Action Selling for a fraction of the cost and do it online at your own pace.
Learn about examples that demonstrate many of the classic mistakes that all salespeople make.
Learn see examples of the correct use of the selling skills.
Take Interactive quizzes that help you internalize the knowledge as they test your understanding of Action Selling.
Gain all the skills you need to become certified through the Action Selling eBook.
Gain helpful feedback on where you are great and where you need improvement through the Certification Assessment.
Complete this Fast and effective learning course in 3-5 hours (depending on your learning style)