MINNEAPOLIS, March 9, 2017 /PRNewswire/ — The Sales Board announced today its selection as 2017 Top 20 Sales Training Company by TrainingIndustry.com. This is the sixth time that The Sales Board and its Action Selling training were recognized by Training Industry, as part of TI's mission to continually monitor the training marketplace for the best providers of training services and technologies.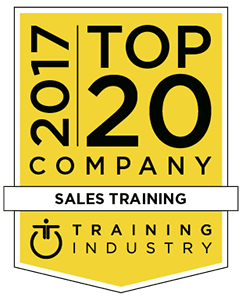 Action Selling received high marks for the following:
Impact on the growth of the sales training industry
Innovation in sales training methods
Industry market share and growth
Client results from sales training
Strength of clients served
Global sales training capabilities
"We are very excited," says Duane Sparks, Chairman of The Sales Board and Creator of Action Selling. "Training Industry selected us because we are the industry leader in Sales Communications, Sales Coaching and Sales Training Process for salespeople and customer relationship professionals. Training Industry understands the sales training expectations that companies have, including leveraging technology to enhance the learning experience – we appreciate this recognition by the experts in employee training."
"Companies that earned their place on the 2017 Top 20 Sales Training Companies List have each demonstrated significant innovation in 2017, with a specific focus on improving the learner experience," said Ken Taylor, president, Training Industry, Inc. "These companies are responding to evolving expectations when it comes to the use of learning technologies to enhance the sales training experience."
About The Sales Board and Action Selling
Since 1981, Selling Power has been the leading digital magazine for sales leaders. Mr. Gschwandtner is CEO of Selling Power, that produces the award-winning Selling Power maSince 1990, The Sales Board has assessed, trained and certified more than 400,000 salespeople from over 3500 companies in the selling skills that have the greatest impact on sales productivity? The company provides a complete training methodology for all customer contact employees through Action Selling and Customer Relationship Professional. When customer contact employees are provided with an effective sales communications process, revenue growth and customer loyalty are maximized.gazine and Selling Power TV, a daily video interview series on sales success.
About TrainingIndustry.com
Training Industry spotlights the latest news, articles, case studies and best practices within the training industry, and publishes annual Top 20 and Watch List reports covering many sectors of interest to the corporate training function. Our focus is on helping dedicated businesses and training professionals get the information, insight and tools needed to more effectively manage the business of learning.
Brandon Beck, VP of Marketing 763.231.2911
www.ActionSelling.com

SOURCE The Sales Board, Inc.