MANUFACTURING INDUSTRY
IMPROVEMENT IN ALL CRITICAL SALES SKILLS COMBINED
Mastery of the sales process requires salespeople to achieve Knowledge and Application scores of 75% or greater in each of the 5 Critical Sales skills. When this is accomplished, salespeople increase their sales rate by 6X. Salespeople who were trained but did not achieve certification levels, were 50% lower in sales growth than those who became certified.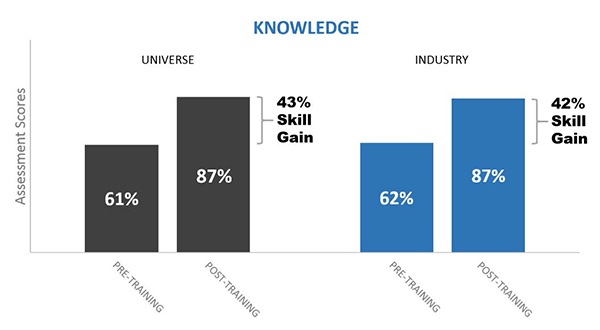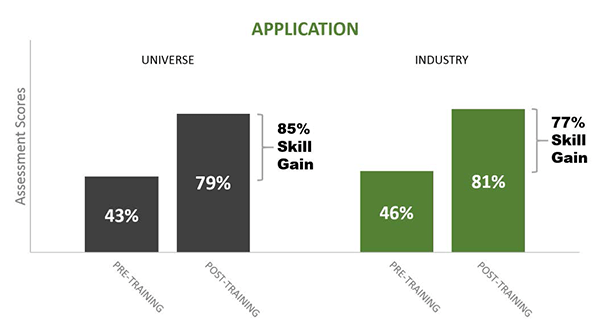 REMARKABLE FINDINGS ABOUT ALL SKILLS COMBINED IN THE MANUFACTURING INDUSTRY
This caused the skill gain percentages in improvement of Knowledge to be very similar with the gains achieved by the Universe.
Manufacturing companies fell short of the gain in Application compared to the Universe. The cause is due to a higher Pre-Training score in Application.
Salespeople responded very well to the training and achieved certification levels in the critical selling skills. Their ability to apply the skills was off the charts improved from 56% to 115%. Every skill showed significant gains. This is an industry filled with salespeople eager to solve problems for customers.
Since the critical selling skills work together (each skill enhances the other), developing all of them simultaneously provides the salesperson with a systemic approach to solution selling. Continual sales performance improvement happens while long-term sales relationships are enhanced. The Manufacturing Industry is a clear example of the need to develop ALL of the 5 Critical Selling skills.