AUTOMOTIVE INDUSTRY
IMPROVEMENT IN CRITICAL SALES SKILL #2: SALES CALL PLANNING SKILLS
SALES CALL PLANNING is primarily focused on the salesperson's knowledge and ability to plan sales calls that include a Commitment Objective. A Commitment Objective is a goal that salespeople set for themselves to gain an agreement from the customer that moves the sales process forward. Failure to do this is the most frequent mistake made by the salesperson.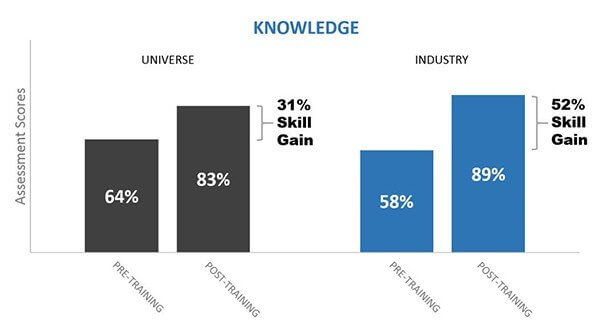 REMARKABLE FINDINGS ABOUT SALES CALL PLANNING SKILLS IN THE AUTOMOTIVE INDUSTRY
Automotive started 6 points behind the Universe in Application of Sales Call Planning and finished 2 points ahead. This resulted in an extraordinary lift in the Application of Sales Call Planning (168%).
The very impressive improvement in the Application of Sales Call Planning skills alone created an economic justification for the entire training investment.
Since the critical selling skills work together (each skill enhances the other), developing all of them simultaneously provides the salesperson with a systemic approach to sales situations. Sales performance improvement happens while long-term sales relationships are enhanced. The Automotive Industry is a clear example of the need to develop ALL of the 5 Critical Selling skills.