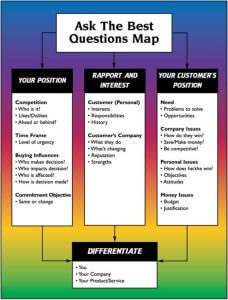 This is a map of all the questioning categories that salespeople need to address in order to orchestrate perfect sales calls. No other training program provides a well-documented questioning plan like Action Selling. When salespeople follow this plan, they leave nothing to chance. They land more deals, avoid objections and stop leaving money on the table by failure to uncover selling opportunities. The Best Questions Map is completely unique to Action Selling.

ABOUT DUANE SPARKS
Duane Sparks is founder and chairman of The Sales Board, the authoritative source of practical and leading-edge information about the art and science of selling. He has created Action Selling sales training products and learning systems that transform sales organizations. Duane is author of these best-selling books: Action Selling, Selling Your Price, Questions (the Answer to Sales), Masters of Loyalty (How to turn your sales force into a loyalty force), and Sales Strategy from the Inside Out (How complex selling really works).

Discover how the best sales training process can make spectacular improvements in sales skills. Action Selling: How to Sell Like a Professional (Even If You Think You are One).