90% Of All Sales Force Training Fails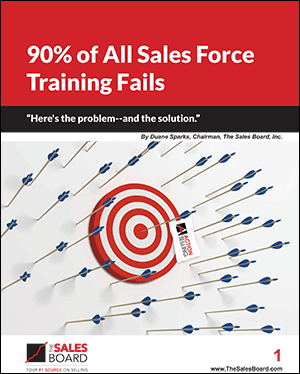 SALES TRAINING'S DIRTY LITTLE SECRET
Investing in training for your sales force seems like a perfectly sensible business practice. It must be a smart thing to do; after all, sales training is a billion-dollar industry.
Then again, that really means nothing except that we're selling it and you're buying it. Here's the problem: 90% of the training that salespeople receive fails to produce meaningful, long-term performance gains. Yes, we're biased. But several other authoritative sources put the figure in the high 80% range.
A billion-dollar industry with a failure rate approaching 90%? Why would any company want to waste training dollars and everyone's time doing something that has a one-in-ten chance of producing a significant payback?
Here's the problem…and the solution.
The Vision for Effective Sales Training