90% Of All Sales Force Training Fails
90% Of All Sales Force Training Fails
Research shows that 87% of the information delivered in seminars and workshops is forgotten in 30 days. Why does this happen? There are three key reasons:
Wrong Content
Sales Leaders fail to focus on skills that can be taught, learned and measured. No doubt personality and motivation can have an impact on performance; but the problem is, leaders can't teach it!
Rejection by Salespeople
Sales leaders must properly sell the need for a particular training program to ensure that salespeople have requisite equity in what you're attempting to train.
Ineffective Transfer
Sales leaders sometimes neglect to ensure that students can connect the learning to their life experiences. It has to make sense in the world they know.
The Vision for Effective Sales Training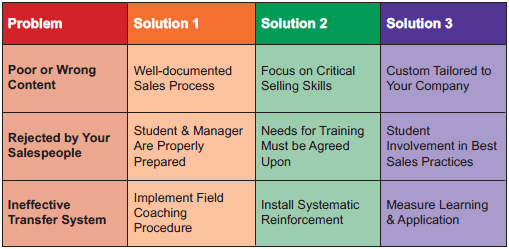 SALES TRAINING'S DIRTY LITTLE SECRET
Investing in training for your sales force seems like a perfectly sensible business practice. It must be a smart thing to do; after all, sales training is a billion-dollar industry.
Then again, that really means nothing except that we're selling it and you're buying it. Here's the problem: 90% of the training that salespeople receive fails to produce meaningful, long-term performance gains. Yes, we're biased. But several other authoritative sources put the figure in the high 80% range.
A billion-dollar industry with a failure rate approaching 90%? Why would any company want to waste training dollars and everyone's time doing something that has a one-in-ten chance of producing a significant payback?
Here's the problem…and the solution.
The Vision for Effective Sales Training